Information abstract submission
Abstract submission
The organization kindly invites you to submit an abstract for consideration for oral and/or poster presentation. We prioritize novel, unpublished work and ask you to select a session topic. The number of abstracts per person, which can be submitted, is limited at 2. For fringe sessions, we encourage submissions that offer novel, unusual perspectives, showcase interesting unexplained findings, or defend out-of-the-box hypotheses. These sessions are particularly designed to engage the audience and foster interaction and discussion. 
 
Abstract submission deadline is January 15th, 2024.
 
Registration
Please first complete your registration before you start your abstract submission. A tracking code will give you access to the abstract forms.

Platform presentations
The Scientific Committee will select speakers for platform presentations based on the submitted abstracts, which are most interesting. In principle, all abstracts meeting the quality standards will be accepted for poster presentations, subject to space availability.

Poster presentations
Posters will be displayed throughout the entire conference. There will be two dedicated poster sessions, during which your presence at the poster is required for one session. A few posters will be chosen for a 3-minute flash poster presentation. Please clearly indicate in the submission form if you prefer to give a poster presentation exclusively. In any case, you will be notified by email.
Please note that presenters are required to be physically present at the venue, and online presentations are not supported.
IDMC-14 2024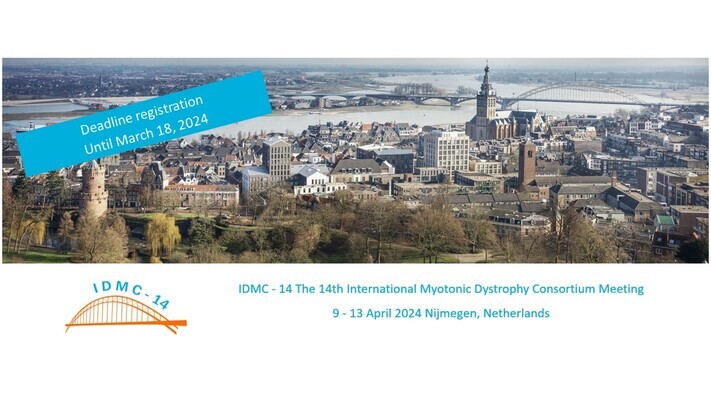 Registration website for IDMC-14 2024
Judith van Werven and Bianca Gremmenevents.rha@radboudumc.nl
Judith van Werven and Bianca Gremmenevents.rha@radboudumc.nlhttps://www.idmc14.org
2024-04-09
2024-04-09
OfflineEventAttendanceMode
EventScheduled
IDMC-14 2024IDMC-14 20240.00EUROnlineOnly2019-01-01T00:00:00Z
De VereenigingDe VereenigingKeizer Karelplein 2D 6511 NC Nijmegen Netherlands